Instagram has become among the most popular and active social networking services, with over a billion monthly active users. It has become an essential tool for businesses, brands, and influencers to sell their products and services and increase their clientele. To succeed on Instagram, you must comprehend the platform's data and stats. We will discuss Instagram User Analytics in this article, including how to utilize it, what information it offers, and how to use it to enhance your Instagram strategy.
What is Instagram User Analytics
Instagram User Analytics is a collection of metrics and tools that let users monitor and assess the activity and effectiveness of their Instagram accounts. These resources offer information on essential indicators, including following growth, engagement rate, reach, and post-performance. Users may improve their content strategy, better understand their audience, and broaden their space on the site by examining these indicators.
Metrics of Instagram User Analytics
Understanding the fundamentals of Instagram Insights: Instagram Insights is an integrated analytics tool that gives users information on the success of their accounts. You need to be an Instagram creator account or a business account to access it. By selecting the three lines in the right corner of your profile and then selecting the Insights tab, you can view Instagram Insights. Once you get there, you will see information on your followers, engagement, reach, and post-performance.
Analyzing follower growth: The amount of people who have opted to follow your account is shown by follower growth, which is a crucial measure. Tracking your follower growth is vital since it may show you how well your account is doing. Use Instagram's tools like Instagram Live, IGTV, and Instagram Reels to connect with new audiences and produce engaging content to boost your follower growth.
Maximizing engagement: Your engagement rate is the percentage of your followers who have liked, commented on, or shared your material. A greater engagement rate indicates that your content connects with your audience and is a reliable sign of the caliber of your writing. To increase engagement, you may leverage Instagram's capabilities to make interactive and exciting content, like polls, quizzes, and Instagram stories.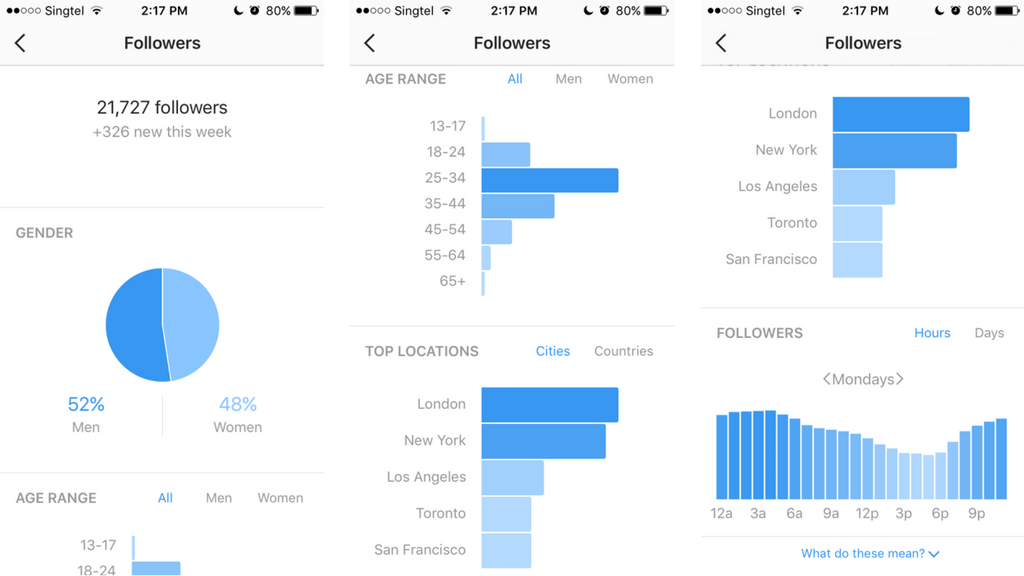 Monitoring reach: The amount of distinct accounts that have viewed your content is known as reach. Tracking this measure will help you determine the reach of your material and will help you determine how visible your account is. You can work with other versions or influencers to attract new audiences and use Instagram's features like Instagram stories, IGTV, and Instagram Reels to broaden your reach.
Examining post-performance: Post-performance is a crucial indicator that reveals individual posts' interaction, audience, and general effectiveness. You may use Instagram Insights to analyze post performance to learn what content categories often work well and how to improve posts for the most engagement.
Knowing your audience's demographics: Instagram Insights provide information on the location, age, and gender of a user's audience. You can achieve compelling content and advertising targeting with the help of this data. For instance, you could provide material that appeals to women if they make up most of your audience.
You can access Instagram user analytics through the Instagram Insights feature, which is available to all business and creator accounts. Third-party Instagram analytics tools are also available to provide more in-depth insights and data analysis capabilities.
In conclusion, Instagram User Analytics is a potent tool that users may utilize better to analyze their accounts' performance and their Instagram strategy. You may determine which material connects with your audience by using the information offered by Instagram Insights, and you can then make wise decisions to increase your reach and engagement.