There are many ways to increase your followers on Instagram, and one of the best ways to do that without spending any money on paid ads is by analyzing the data of your audience via Instagram's official feature, "Instagram Insights."
What is Instagram Insights?
Instagram Insights is a feature offered by Instagram to help creators and business owners understand their audience's behavior with the stats.
With Instagram Insights, you can check the stats of your:
Posts.
Story.
Reels.
Videos.
Live.
You can get the stats of any of these things by the last 7/ 14/ 30 days. You can also get the data by custom dates by selecting it from the calendar.
You can track the activities of the last 90 days at a maximum and at most that.
When you click on the status of any feature, such as Posts, you'll get a detailed report on that, such as:
Reach: This will tell you how many people have seen your post. If one person has seen your post multiple times, it'll count as only one reach.

You can also get the details of people who have seen your post from different countries by tapping on the "demographic information."

Content Interactions: If someone has performed any activity from your post, such as liking, commenting, clicking on the link you shared, etc., it'll be counted as "Content Interaction" or "Content Engagement."

Profile Activity: As the name itself suggests, this feature will let you know how many users have visited your Instagram profile and how many new followers you have from the past few days.

Ad: You can get the data on how your ads are performing right now, or you can start a new campaign for your new post.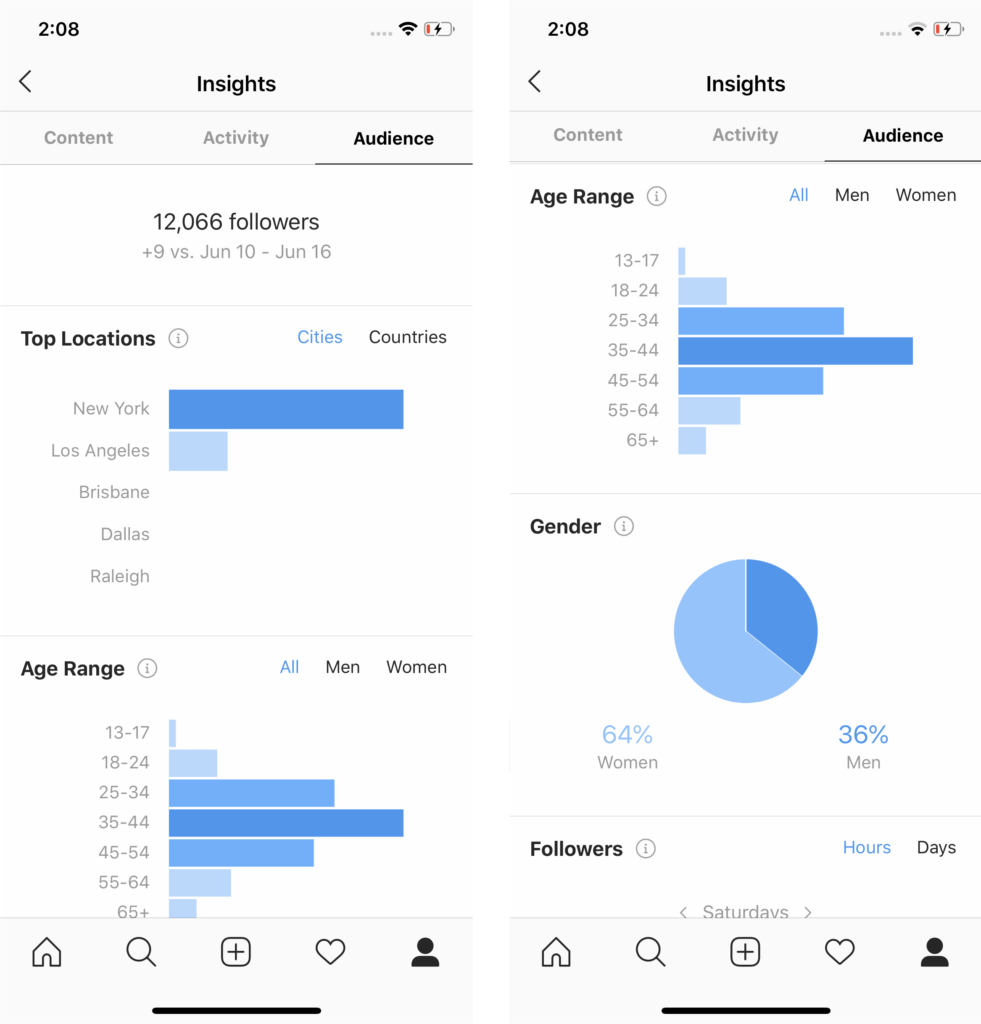 If you don't want to go through each tab for insights, you can simply look at the "Overview" tab that highlights the most important data of your post and profile.
How to access Instagram Insights?
To access Instagram Insights, you should go to your "Profile", tap on "three horizontal lines" from the top, and then click on "Instagram Insights" to get all the data you want.
You must keep a couple of things in mind before trying to access Instagram Insights.
Instagram Insights is available only on the Instagram app and not on the web.
You need a business or creator's account to access Instagram Insights.
If you have a personal account, you can easily convert it to a business or creator's account.

To convert your personal Instagram account to a business or creator's account, you have to:
Launch the "Instagram" app.
Tap on "Profile."
Click on "Three horizontal lines" from the top.
Go to "Settings."
Tap on "Account."
Finally, scroll down a bit and select "Switch account type," and then go for the "Business" or "Creators" option, whichever suits you the most.
And that is it.
You have now converted your account type on Instagram, and you can get the "Instagram Insights" feature.