Social media activity reveals a lot about a person, including their hobbies, social circles, romantic relationships, and more. The fact that so many individuals use social media to learn more about their significant others, friends, family members, and anyone else they want to get to know a little better is not surprising.
However, Instagram makes it challenging because it needs to display more information about the activity of other users, even those you follow. What details do they lack, and where can you find them?
You could be curious enough to want to know this. But it's also an excellent method to find attractive and practical new profiles to follow. So why not use this social networking tool to see what your followers are interested in?
You're not alone if you think this is a beautiful idea; many people are unsure of how to proceed now that the Activity tab in the Notifications area is no longer accessible.
You can get your questions answered by reading our post. Learn how to discover more about your fans by reading on.
How do you See Someone's Recent Posts?
Here's how to view recent posts, which are a component of someone's Instagram activity. It's possible to miss a user's post in your feed, but regarding their profile makes it simple to stay current.
Open the Instagram app on your device.
From the options at the bottom, choose the magnifying glass option.
In the search box, enter the desired username.
To access the user's account, tap on their name.
Explore their feed to see the most recent posts.
How to See Someone's Followers
You can take the following actions to view someone else's followers and the people they are following:
Open the Instagram app on your phone.
At the bottom, tap the magnifying glass.
Enter the username of the person you want to track in the search field.
Tap the Followers or Following tab when their profile opens.
How to See What Someone Else Likes
Before one deleted the Activity tab, it was much simpler to see what the users you follow liked on Instagram. There was no need to scroll much because everything was in one spot. Although the method may be cumbersome, it is still feasible to see who liked what.
Go to your home page on Instagram after opening it.
Select a post from a user that you and the user you want to track, both followed by scrolling through the feed.
Click on the likes listed beneath the post.
Find out who of your friends enjoyed the post by looking at the list of individuals who liked it.
How to Get Instagram User Activity of your followers With Third-Party Apps
You can use third-party apps to monitor the activities of your followers in addition to viewing this essential information.
Use the Snoopreport app, which they first developed with marketing objectives. With it, you can add any public profile for tracking and get information about its new followings and unfollowings, thematic interests, as well as liked hashtags and publication. This app offers a paid subscription to keep tabs on up to 100 users. Though it is a premium app, consider whether paying for it is worthwhile for private use before downloading.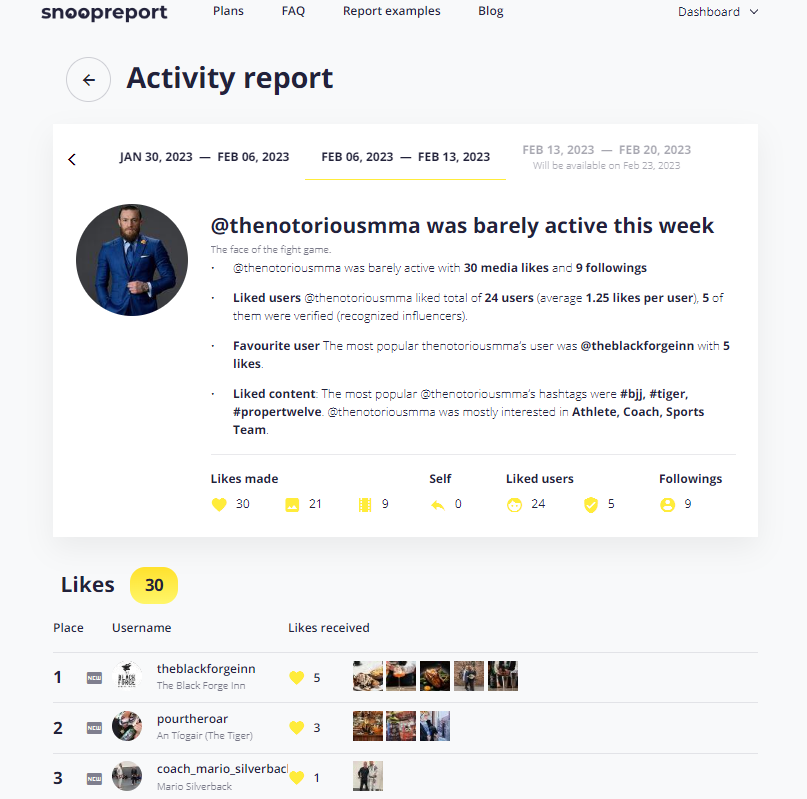 Ways to Hide Who all You Follow on Instagram
You can switch your profile to private on Instagram to hide the list of users you follow. The steps are listed below.
By tapping on your image in the bottom right corner of Instagram, open your profile page.
Go to the hamburger icon in the top right corner and click it to view account settings.
To access Settings, click the gear symbol in the bottom-left corner.
Navigate to the Account Privacy section by tapping on Privacy.
To make your profile private, click the button next to Private Account.
Only your followers can see who you are following after you've done that.