The past year has experienced a rise in the popularity of Instagram Live. You might be debating if it's a good fit for your brand and thinking, "Hey, having Instagram Live statistics will help my business understand and level up these videos,"
You are fortunate. All of the existing Instagram analytics solutions tracked Instagram Live analytics prior just recently. However, Instagram improved its capabilities and updated its analytics features in May 2021. The update added the long-awaited Instagram Live metrics and Instagram Reels analytics.
What is Instagram Live analytics?
The tracking, gathering, and analysis of performance information from Instagram Live streams is known as Instagram Live analytics.
Instagram Live is a fantastic tool for live workshops, panel discussions, and Q&A sessions. You must analyze these streams' performance to determine whether they advance your social media strategy.
How to view Instagram Live analytics?
Only business and creator Instagram accounts are now able to access Instagram Insights. You cannot access Instagram Insights from personal profiles.
But that change is simple to implement. Go to your Instagram profile and click the hamburger menu symbol in the top right corner to access your settings. After that, select Account and then choose Professional Account.
In the most recent upgrade to Instagram's stats, reach on the platform is covered in more detail. In the Overview section, Live metrics are available when you touch on Accounts Reached.
To view all Instagram Live stats, use the following alternative method:
1. Start streaming live on Instagram.
2. Tap View Insights after the video is complete.
3. Clicking this will see every Instagram Live metric for that video. Please take note that loading the metrics may take a while.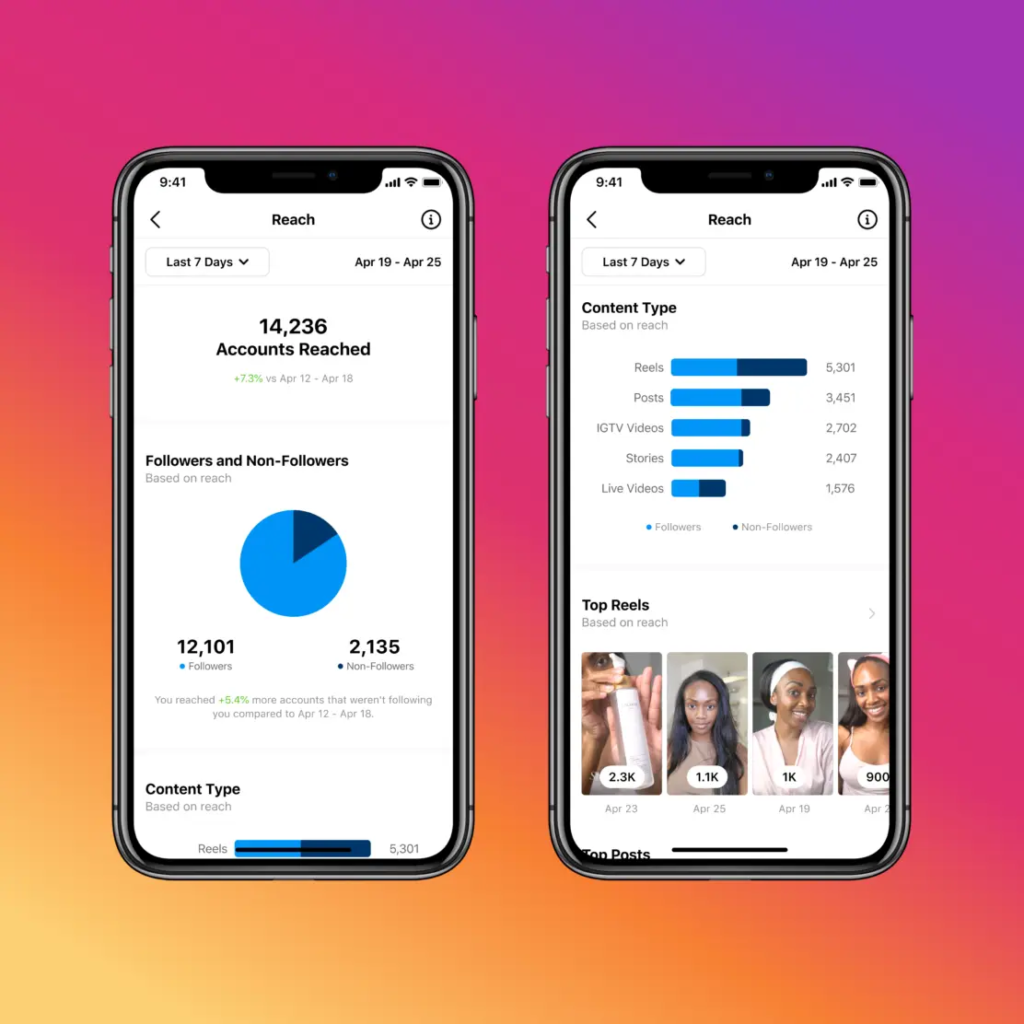 Instagram Live metrics explained.
Two reach measures and two engagement metrics are among the four new significant indicators added to Instagram Insights.
Accounts Reached
It shows how many users watched your Instagram Live stream (or perhaps only a portion).
Top Concurrent Viewers
The term "concurrent viewers" refers to a measurement that shows brands how many people are actively viewing a live stream at any given moment.
Peak concurrent viewers is a measurement that reveals how many people were watching the stream at its busiest.
Comments
The number of comments a specific Live video has received.
Shares
The number of times Instagram users shared your Live video—either with another user or to their Instagram Stories—is shown here.
Tips for using Instagram Live analytics in your strategy
Having a helpful list of Instagram Live pointers is excellent for guiding your live video approach. However, it would help if you still looked at the analytics.
Here are some tips on how to use Instagram Live statistics to create better, more exciting video content, whether you're attempting something new or evaluating what you've been doing.
Tip 1: Try going live at various times.
Change things up if your company's plan calls for always going live at a given time and on the same day. To determine the best time and day for your brand's Instagram Live approach, keep testing and keeping an eye on the analytics. It will allow you to schedule your forthcoming live videos for when your audience is most likely to be online.
Tip 2: Experiment with various live session lengths
Do you set a 10-minute time limit for live sessions for your company? Or are all of them at least 1 hour long? You have the opportunity to play with length right now.
Try a shorter-than-usual live video session as an experiment, or take the time to prepare a longer one.
Tip 3: Examine various sorts of live content
You should not limit yourself to safe options when analytics are available. You can experiment with various content types.
For instance, musician Andrew Bird uses Instagram Live to broadcast performances to his followers.