Apple's screen time function comes with functional parental controls, such as filters and the capacity to set time limits for specific apps or the entire device. This post will show you how to set up parent controls on your iPhone and iPad.
There are many parental control third-party software alternatives for iPhone and Android devices, but you can also set up a few controls in Apple's settings. We'll demonstrate how to set parental controls on iPhones and iPad in this guide.
1. Go to Settings and tap Screen Time.
2. Select Turn on Screen Time, then select it once more. Choose "This is My [Device]" or "This is My Child's [Device]."
If you are the device's parent or guardian and wish to stop a family member from changing your settings, tap Use Screen Time Passcode to establish a passcode. Then, input the passcode once again to confirm. You must enter your Apple ID and password after verifying your passcode. If you forget your Screen Time passcode, use this to reset it.
When configuring Screen Time on your child's device, continue the on-screen instructions until you reach Screen Time Passcode and type in a passcode. Enter the passcode once more to confirm.
3. Then select Content & Privacy Restrictions. Enter your passcode if prompted, then enable Content & Privacy Restrictions.
Ensure the passcode you select is distinct from your device lock. Tap Settings > Screen Time > [your child's name] to modify or disable the passcode on your child's device. Once you've selected Change Screen Time Passcode or Turn Off Screen Time Passcode, confirm the modification with Face ID, Touch ID, or your device passcode.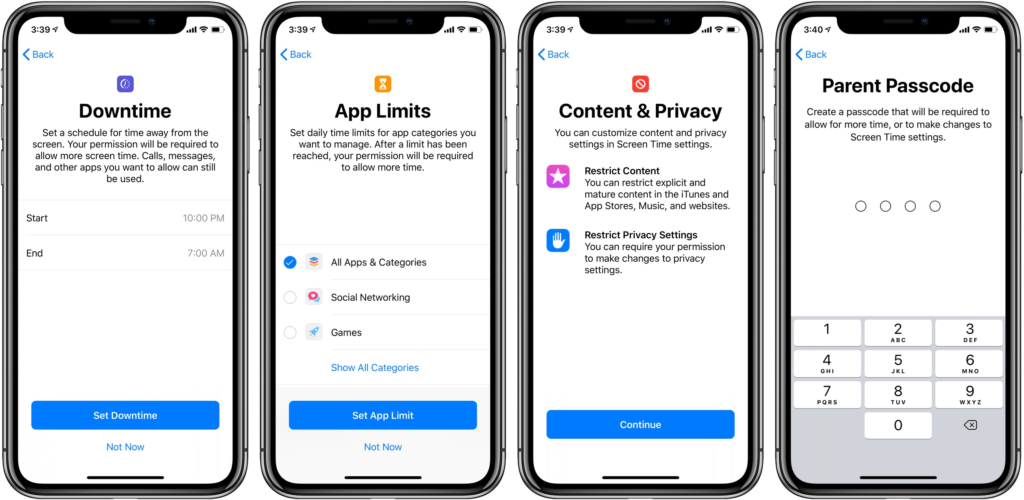 Best Parental Control Apps
Many children have early internet access thanks to tablets, phones, and laptops. Unfortunately, there are also worrying and potentially harmful apps, websites, and interactions online that go along with the instructive, helpful, and enjoyable information. Parents can now keep an eye on and limit what their kids may do with their devices, thanks to parental control apps. Let's check some of the best parental control apps:
Qustodio
Qustodio fulfills every requirement for a parental control app that guardians might have, including content and app filters, device tracking, screen time management, location tracking, call, and text monitoring, real-time notifications, and multiple device linking possibilities.
Canopy
A canopy is a fantastic option overall, but younger children should use it since it does a superb job of screening and removing explicit and potentially harmful content (including photos they take themselves).
FamilyTime
FamilyTime allows parents to plan internet usage and encourages children to "save" some of their free time in a time bank, which they can use for "fun time" in the future. Additionally, it allows parents to remotely lock their child's device whenever necessary.
NetNanny
NetNanny is excellent for real-time monitoring because it not only notifies parents whenever their child tries to access a site that has been barred or restricted but also tracks their whereabouts in real-time. Additionally, it provides real-time monitoring in the Family Feed of the app.
Snoopreport
It keeps tabs on your children's Instagram likes and following to keep them safe. Make sure they're not interacting with potentially harmful stuff. They must be aware that you are closely observing your children's Instagram usage.