Digital marketing has taken over conventional marketing, and Instagram is one of the top platforms for marketing the product for better reach. With more than 1 billion users, Instagram ranks fourth on the planet in terms of user base. So, every marketer must utilize this platform.
Though many users use the tools rendered by Instagram for business profiles, some need to be made aware of the feature. There are various tools in the market for business profiles on Instagram. These tools will help the marketer to strategize the plan effectively.
Some analytics tools for Instagram
Though Instagram offers analytics for business profiles, there is data beyond it that will benefit marketers. Following are some best and most robust analytical tools for Instagram.
Businesses can only grow if they recognize the correct target audience, as only some users are prospective consumers of a single product. So, it is crucial to track the users' activity to pitch the service or product to them.
Snoopreport helps the marketer track the Instagram activity of any user with a minimal cost. The marketer can know the user's likes by checking their liked content and followings. It can help the marketer to display the product according to the activity and preferences of the user.
Snoopreport can also be helpful for individuals, as they can track their child's activity on Instagram. Being an admirer of a celebrity, users can now get into their life insights with this fantastic tool. Also, activity hour is no more an uphill task with the help of Snoopreport.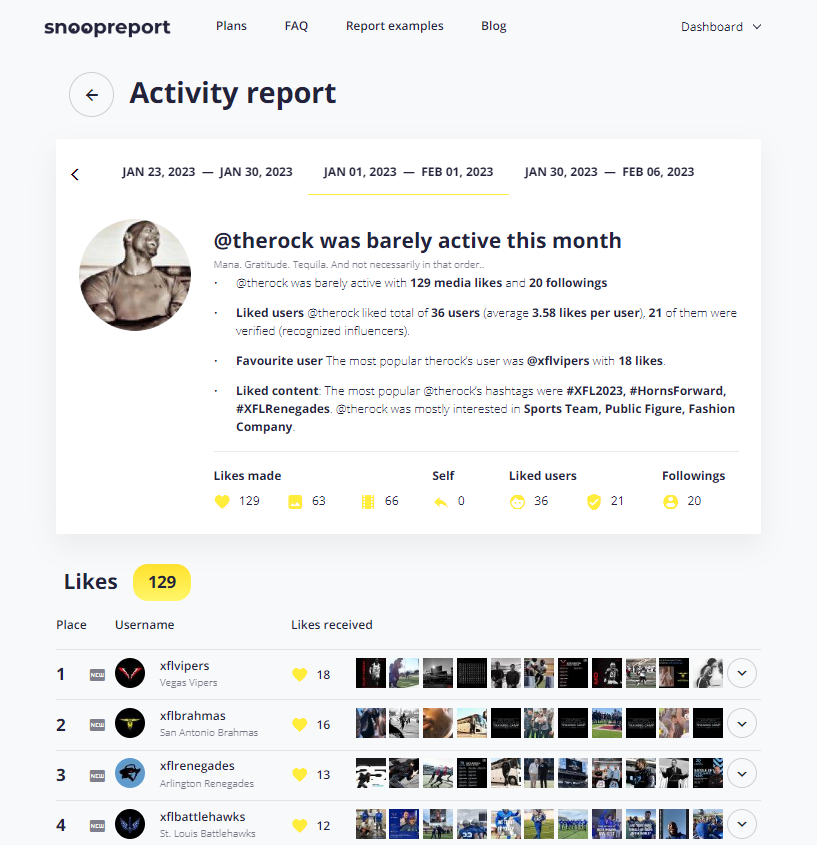 The main forte of Keyhole is keyword tracking and hashtag analysis. Though it offers other metrics, too, keywords and hashtags are its prowess. Marketers can use the tool to measure the performance of branded hashtags. While working with influencers, it can be a valuable tool for tracking the analytics of Instagram. The tool allows tracking user-generated content, promotions, and many more.
For tracking a specific KPI metric (key performance indicator), Squarelovin is the best analytical tool. Tracking KPIs are important to know how the efforts by a marketer are getting paid off. A marketer can be more knowledgeable with tracking KPIs, as they cannot know which contents are working worst and best. Tracking KPIs will help the marketer plan the content strategy per the users' likes and dislikes.
For detailed insights into Instagram analytics, Minter is the solution. The tool tracks daily changes in the audience and hourly content details on desktop and mobile. Minter has a fantastic feature to benchmark the basic metrics of Instagram of your profile or account against units of similar and relevant reports. The user can also track the top followers with this tool, and the marketer can get the detail of the filters that yield good results on your content.
Using these tools will certainly yield positive results in marketing and increase the business reach. All the tools have different specialties, and the user all of them cumulatively. The marketer might take it as a redundant expense earlier, but the investment return is high.