To reach a bigger and more targeted audience, Instagram advertising is a means to pay for the privilege of publishing sponsored content on the Instagram platform. There are several reasons why a business or individual chooses to market. Nevertheless, Instagram advertising is regularly employed to raise brand recognition, boost website traffic, generate fresh leads, and move existing leads further down the sales funnel.
Instagram Ads
Brands may use Instagram Ads to promote their products online and display their creative side through photos, videos, and other visual material. These campaigns may be created in various methods, which we will discuss in more detail below.
Types of Instagram ads: There are many types of ads that one sees on Instagram. Some of them are:
Photo Ads
Sponsored Ads
Mapped – Guided ads
Story Ads
Video Ads
IGTV ads
Carousel ads
Targeting options:
Facebook's advertising platform, which has perhaps the best targeting capabilities, is used for Instagram ads. Your target audience's geography, demographics, interests, habits, and more may all be specified. You may even choose to advertise to customers or others who have engaged with you.
Ad formats:
Image Feed Ads
Image Story Ads
Video Feed Ads
Video Story Ads
Carousel Feed Ads
Canvas Story Ads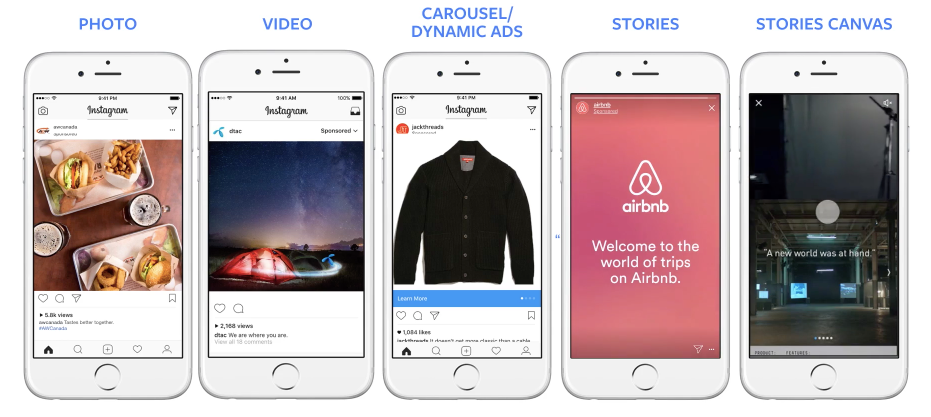 Instagram Ads Manager
Instagram Ads Manager, often referred to as Facebook Ads Manager (as Instagram is a Facebook property), aids clients in creating an integrated marketing plan and assists in defining your target market and advertising campaign goals while creating an ad plan.
Features: Some of the characteristics of Instagram Ads Manager are:
Multi-platform integration
Run multiple ad campaigns
Define your target audience
Gain performance insights on ads
Access:
You may generate Instagram advertisements using Ads Manager if you've already linked your Facebook page, Instagram account, and Facebook advertising account using Business Manager. Use the Business Settings option in Business Manager to access Ad Accounts. then select the View Ad Account under the Ads Manager link.
Instagram Story Ads
When viewers view Stories on Instagram, sponsored material called Instagram Story ads emerges. Instagram Stories are vertical, full-screen photographs and videos that are shown at the top of the Instagram app rather than in the news feed. Organic Stories vanish after 24 hours. However, Instagram Story advertising will be served up for the duration of your campaign. Stickers, filters, and effects are among the entertaining, interactive elements used in stories. Since their debut in 2017, they have been tremendously popular, and companies have benefited. In an Instagram user poll, 50% of respondents said they had visited a company's website to make a purchase after seeing it in Stories.
Ad format:
Instagram Stories image ads
Instagram Stories video ads
Targeting:
Most intriguingly, 80% of consumers don't necessarily care if an advertisement has a discount or coupon. This shows that attractive, interesting material that highlights a product's advantages is more enticing to Instagram users. User preferences will differ according to your target, industry, and message, so when creating your own Story ad, take this information into consideration. When in doubt, attempt A/B testing to determine the kinds of advertisements that your target market enjoys.
Placement: Depending on the demographic you're trying to attract, some ad styles on Instagram could be more successful than others. Consider your audience's habits and preferences. Do they like marathon video viewing? Do they shop online frequently? Do individuals spend more time viewing Stories and Reels or scrolling through their feeds? Choose ad formats with objectives and calls to action that are consistent with the preferences of your target audience.
Conclusion
There are adverts across Instagram, including in feeds, stories, explore, and other sections. They resemble ordinary postings in appearance, but they are always identified as sponsored to make the difference evident. They usually contain more components than a typical post, such as links, CTA buttons, and product catalogs.