Instagram is a fantastic tool for meeting new people. You might learn a little about someone's life, interests, and friends through their posts. In contrast to most social networking sites, Instagram displays relatively little data about users' activity.
What if you wish to learn more than what blogs can teach you? Examining someone's Instagram activity record is one technique to gain more information. It's more complex to find such information than it is to look at their profile.
A record of every action made on an Instagram account is kept in an Instagram activity log. It can include publishing content, leaving comments, and sending direct messages. The account owner is the only one with access to the activity log, which is hidden from other users. It can monitor personal behavior on the site and resolve any problems with the account. Go to the profile settings in the Instagram app to access the activity log.
How to View Someone's Activity Log on Instagram
Instagram has you go through a few hoops to access your activity record, but they completely hide it from you regarding other people's activities. You can only directly view someone's likes on Instagram if you go through every account that person follows and check through all those photos to see which ones the person has liked.
However, everything is not lost. There are tools available to track and gather this data for you, and Snoopreport is the best choice.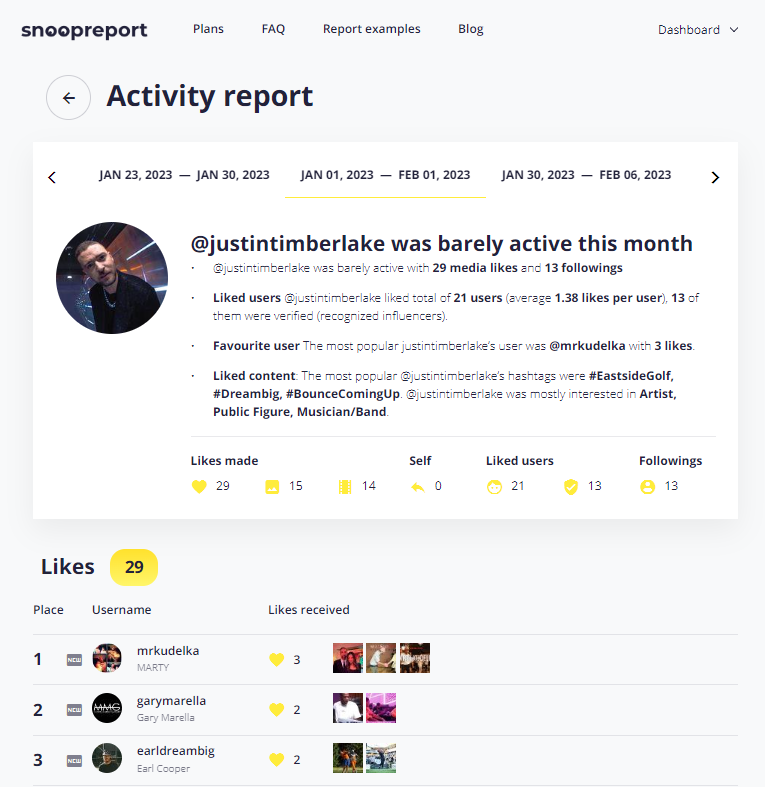 How to View Your Activity Log on Instagram
Accessing your Instagram activity is simple if you want to look back at it. You can view three different sorts of activity information in three other locations.
Let's start with the section of your activity log containing most users' essential information: the posts you've liked. First, open the Instagram app and click on your profile picture in the lower right corner to access your profile.
Click on the three lines in the top right corner of your profile while you're there. This symbol may be recognized as a "hamburger menu." Click "Settings" in the pop-up menu that appears.
Click "Account" under "Settings." You'll see a new menu with the option "Posts You've Liked" at the bottom. When you select that option, all your liked posts will appear. The following video will show you the entire procedure.
Your follow history is the second category of activity you can locate, and this one is considerably simpler. Click the heart in the top-right corner of the Instagram app's home screen to start. You can see a history of who followed you and when.
The third activity log contains a history of all links you've opened on Instagram and how much time you've spent there. Click the three-line "hamburger menu" in the top right corner of your profile to return to it.
Go to this menu and select "Your Activity." Two tabs, "Links" and "Time," will be visible. By the way, you may also conceal your Instagram link history.
Snoopreport is a website created exclusively to collect crucial Instagram activity data that is otherwise difficult to locate. Snoopreport will track the behavior of the Instagram accounts you choose to follow and provide you with weekly activity reports: see what hashtags and posts like the accounts you have added for monitoring, their new followings and unfollowings, and thematic interests.. Thanks to this ongoing observation, you can observe trends and changes in the person's Instagram usage.
You can keep an eye on numerous persons at once using Snoopreport, which is another valuable feature. You can join many types or tiers of plans, and each method gives you a specific number of accounts to follow. You can follow up to 100 Instagram accounts simultaneously.