The basis of every effective Instagram marketing campaign is Instagram monitoring. Data is the foundation of all intelligent marketing decisions, and there is plenty of data accessible to tell you what is and is not effective on Instagram and to spark fresh ideas for potential campaigns.
With 1.39 billion users, Instagram receives an average of 11.7 hours of usage every month. The app is used by nearly two-thirds (62.3%) of them to follow or investigate brands and goods. But during that time, a tonne of stuff is vying for their attention.
Where can you find the Instagram monitoring/analytics information you need to hone your plan? What does all of this mean? In this post, we dissect everything.
Instagram account metrics to track
Engagement rate: It is the number of interactions expressed as a proportion of reach or followers. It is a benchmark for assessing how well your material connects with readers and motivates them to take action.
Follower growth rate: The rate at which you're getting or losing followers, in other words. Nothing else on Instagram has a more significant influence on organic reach. For comparison, the typical monthly growth rate for followers is 0.98%.
Audience demographics: This isn't a measure but a collection of significant data points that can give you insight into the most likely successful content.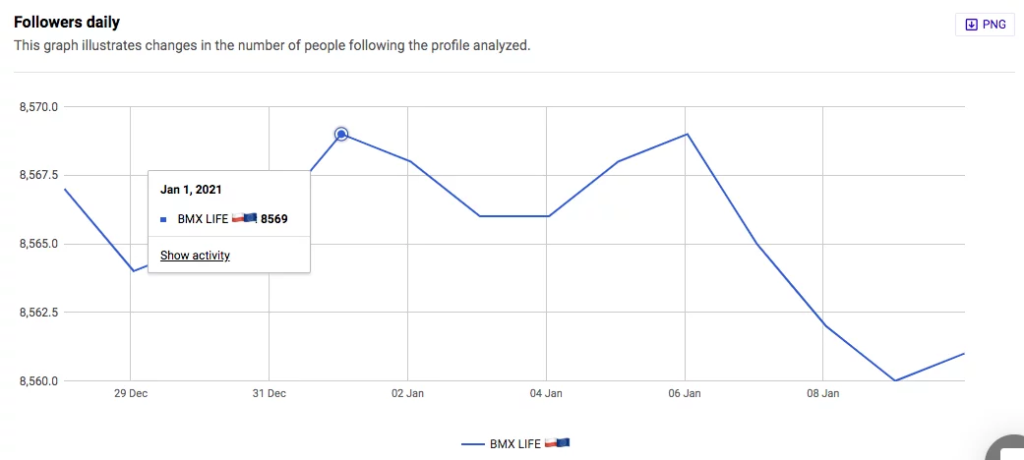 Instagram feed post metrics to track
Post engagement rate: The number of interactions expressed as a proportion of followers or reach. You can conduct this calculation by hand, but a clever Instagram analytics solution will take care of it automatically.
Post comment rate: The number of comments expressed as a proportion of reach or following. Count words separately from overall engagements if your objectives involve fostering connections or increasing loyalty, and work to increase that number in particular.
Impressions: The total number of times users saw your content. It may show how effectively you're marketing your account and content.
Reach The number of viewers of your post. Thanks to the Instagram algorithm, the more exciting and engaging your material is, the more people will view it.
Instagram Stories metrics to track
Story engagement rate: The number of interactions expressed as a proportion of followers or reach.
Completion rate: It indicates the percentage of viewers watching your Story till the end. People seeing your entire Story is a sign that your audience is interested in what you say.
Instagram monitoring/analytics tools for 2023
Instagram analytics go much beyond the information offered by the app's native analytics. Here are our top recommendations for more comprehensive Instagram analytics solutions that provide the specifics and adaptability needed for expert Instagram analysis.
1. Hootsuite
Thanks to the social media analytics features included in Hootsuite's professional plan, you can view an overview of your Instagram data in your social streams, ensuring that you always have a quick glimpse of your most crucial outcomes.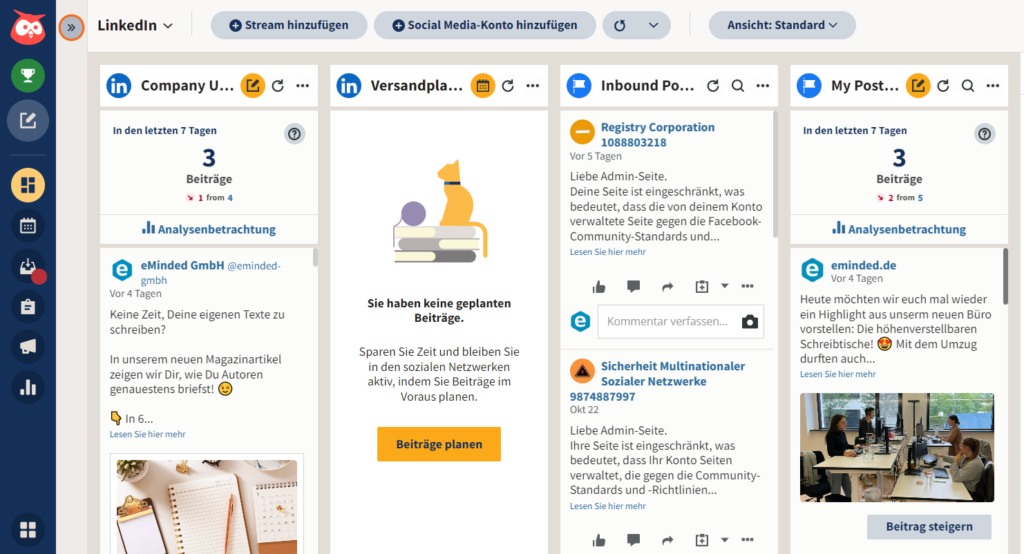 2. Minter.io
A desktop and mobile analytics tool called Minter.io offers in-depth data for Instagram. It monitors daily audience trends and hourly content information.
Benchmarking your basic Instagram analytics against a cohort of related accounts is an intriguing option. Additionally, you will be able to monitor the top followers and even the filters that work best for your material.
3. Snoopreport
This app lets you discover what your favorite celebrities, friends, boyfriends, or girlfriends like on Instagram. Instagram activity history is available for you in beautiful and convenient reports and downloadable activity logs with this app. Snoopreport Instagram tracker handles everything in the cloud and shows you insights about someone's activity on Instagram.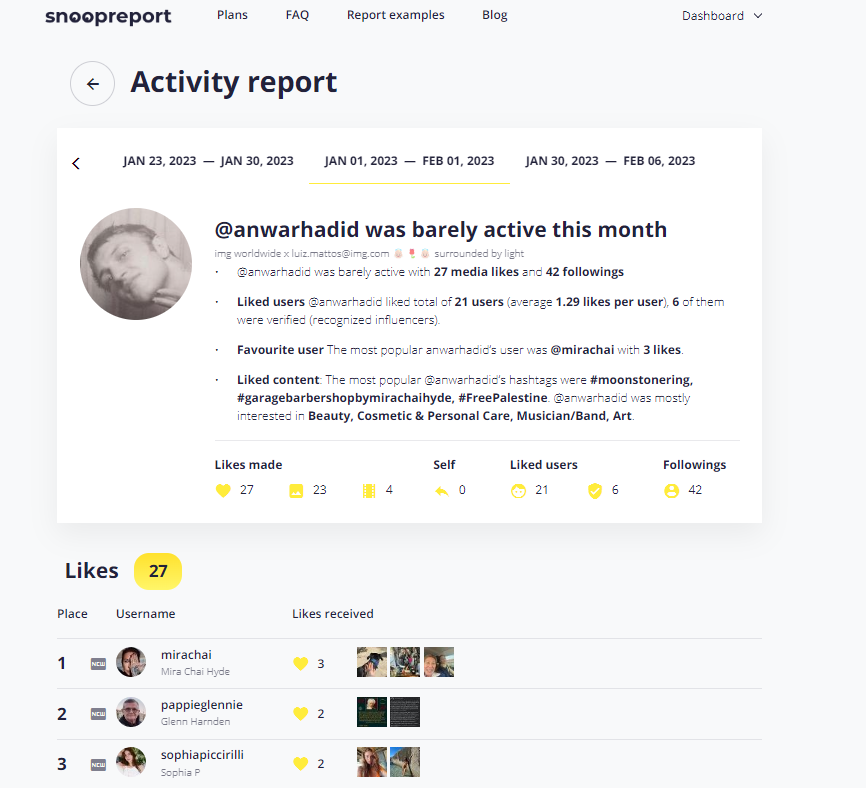 Instagram Hashtag Monitoring
Over the past few years, hashtag usage on social media has significantly increased. For specific campaigns, many brands develop their custom hashtags, making it simpler to keep all relevant postings and conversations in one place.
Using hashtag tracking tools, you may find trending and pertinent hashtags. They display the evolution of a hashtag's popularity. Most top hashtag monitoring apps aren't free, which is unfortunate, but most do include a free trial. However, depending on your precise demands, free programs can assist you.
Here are a few Instagram Hashtag Monitoring apps that you need:
1. Brand24
Brand24 is a tool for tracking online mentions of your brand or item. It does, however, come with a potent hashtag-tracking search function. It comprises both hashtag analytics and hashtag tracking.
One can also follow hashtags on Twitter, Instagram, and other social media networks with the help of hashtag tracking. You can track and assess competitions and campaigns using hashtags. With the help of Brand 24, you may determine your social media reach and identify key influencers.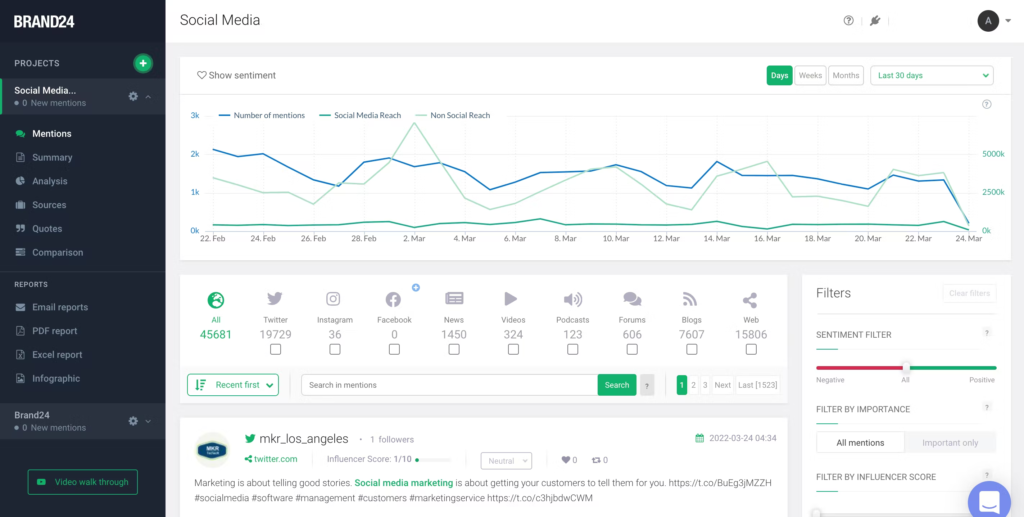 2. AgoraPulse
Agorapulse is a well-known social media management program. Its integrated hashtag tracker is the perfect addition for social media managers who need to find and monitor relevant hashtags. You can perform multiple hashtag searches and choose a language and location.
3. Digimind
Digimind is a tool for market research and social listening. It examines a wide variety of data types, including hashtags. Digimind recognizes that by looking at the hashtag and keyword usage, you may better understand your audience and their expectations. For instance, you can listen to chats to identify user preferences, purchases, and locations.