If you are new to Instagram account management, you might wonder what all Instagram trackers do. It is simple; you can get an idea by spelling the word. It tracks the account's audience engagement with the posts and stories. It will give you some valuable insights into your engagement. Additionally, it will help you get followers and understand how your audience engages with the content. Various tools will measure and monitor Instagram engagement.
Do you know the most important thing for your Instagram account engagement? Its hashtags. What comes to your mind when you hear hashtags? The more hashtags you add, the better engagement will be. But it's only sometimes the case. You must use the right one according to your posts and audience. Let's see how Instagram hashtags will help you to grow your account. Let's take a look.
Importance of hashtags
On social networking sites, hashtags are crucial because they help the proper users find the content. Utilizing pertinent hashtags makes it easier for people to find and access your material, which increases views, comments, and shares. Finding the appropriate ones, that complement the contents and connect to readers. Hashtags make your account visible to a broader audience and connect with you and your page.
How did a Hashtag operate?
The purpose of utilizing hashtags in social networking sites is to let users and algorithms know that the material is relevant to a particular subject or genre. Ultimately, it makes it easier for consumers to locate pertinent material throughout platforms, increasing the community (or niche) for which the content is accessible.
Benefits Of Hashtag
Businesses of all sizes may make profits from the success of such social media sites by utilizing hashtags. If utilized wisely, a hashtag may be immensely beneficial. In addition, you may use them to increase brand recognition, target a particular demographic, improve your organic traffic optimizer, and take advantage of current and hot subjects. The use of hashtags has 11 benefits, which are listed below.
· Hashtags Work best for promotion.
Your audience may participate in the dialogues by using hashtags. Whenever you create a hashtag for a campaign or event, the followers on social media can track the action in real-time. One should utilize hashtags sparingly if one wants to use them effectively. You won't have to include every single one in your articles and updates. Long hashtags must also be avoided.
· Hashtags help you to get proper Audience Engagement.
Regardless of your social media site, hashtags can start dialogues with the audience. Tags are utilized individually on each site when choosing which ones to use. For instance, tags used in Instagram are most of the time to represent video and photo content best. Some social media sites, like Twitter, include hashtags specific to a subject or demographic you wish to connect with.
· Use proper Hashtags for every post.
Are you the one who is using the same hashtags for every same post? Then you might be doing it wrong. Using bulk hashtags is not the key. You must use the right one for the posts so your targeted audience can see them while scrolling. Using the right keywords becomes more critical because it will help you to reach out to more people. Additionally, search campaigns can target the audience better and improve social media conversion rates. The targeted audiences will result in better engagement.
· Searching Is More Effective Thanks to Hashtags
Finding individual posts along with relevant ones may be made much easier by using hashtags. When tags are trending, results will indeed be updated often. When you improve discussions, and content, including changes, hashtags become more apparent on social networking sites and search engines. Using hashtags is an excellent approach to finding material and individuals discussing a specific topic.
· Use Hashtags to Help People Find You
Hashtags will allow you to perform searches more effectively, as was already explained. They perform the same thing whenever anyone looks towards you or what you've to offer. Hashtags allow your customers to look for and find what the company has to provide across many platforms. There are hashtag search capabilities on both Twitter and Instagram. Hashtags may be used to hunt for content and postings regarding you from both prospective clients and current clients who are seeking your services.
· Hashtag Use Increases Follower Growth
Using hashtags on specific social media platforms, like Instagram, will increase your reach, which nearly always results in more followers. You may utilize this as a part of your social media user's account lead-generating strategy. If you have additional followers, the company is more visible. On some other sites, using hashtags to indicate a post's subject and speed up users' discovery of related information is more beneficial.
· Hashtags will help you to establish a relationship with your followers.
Establishing relationships with a follower can only be done using the proper hashtags. People love to share important events, moments, and purchases through hashtags. These hashtags will help you do the best practices. It enables you to get the proper audience engagement and better exposure. If you want to make your account famous or generate some sales from Instagram, then it's the best way to do it.
· Hashtags are the best for cross-promotion
When you understand the hashtags and their nature, you will use them across several platforms. The hashtags are the ones that are used consistently across several platforms for creating several conversations. The more relatable hashtags you use, the more you will engage and gain exposure with your audience.
· Hashtags are the best way to describe your posts.
A fantastic photo is the most effective advertising for any service or product. When posting your photographs on Instagram, you must reach as many individuals as possible. Increasing the number of followers, likes, and appreciations on your Instagram profiles are one of the primary business objectives. To define what you're selling or giving, utilize the finest hashtags and pertinent adverts.
· Effective Advertising Tool: Hashtags
For using hashtags effectively, it's crucial to be aware of those that are particularly pertinent for your brand and target audience. When employing social media marketing online, hashtags assist your company in reaching its maximum potential.
Creating a great marketing plan is the ultimate objective for every company seeking to establish a presence on Instagram.
How to search for the best hashtags?
When searching for effective hashtags, you might get general or complicated hashtags or need to get them quickly. The Best way to start while searching for effective hashtags is to check out some hashtags influencers in the niche you are using or have chosen.
You must check out who are the influencers that are catching the attention of your audience. For specific niches, some bloggers, actors, or someone is listened to and most trusted. Several B2B influencers can help you create marketing impact, only to make sure that they are the best for the business.
You can use https://snoopreport.com/ to identify the influencers. This tool can find out the best bloggers, publications, and top content writers in the nice. Follow some of the best influencers and notice hashtags they regularly use to tap into relevant trends and keywords. In addition to hashtag data, in the weekly reports, you will also see what posts they like, their new followings and unfollowings, as well as thematic interests.
When you have identified the influencers, you can check out the tracker tool for keeping the loss of some crucial factors like relevance and specialty to the brand.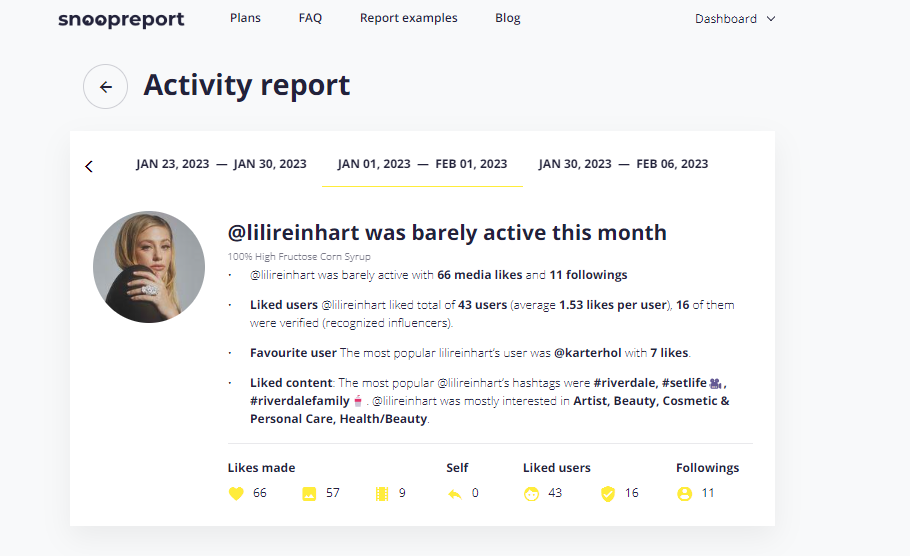 How to Use Hashtags on your Instagram?
On Instagram, hashtags may broaden audience reach & boost interaction. To attract the biggest crowd imaginable, feel inclined to use up to 10 or eleven famous and pertinent hashtags on your Instagram Account.
On a typical Instagram story, you may use up to 30 hashtags. Although you usually aren't required to use so many, it's crucial to understand that you can explore by using more if you choose.
To find out the tags celebrities or rivals use on Instagram, utilize the search bar. Use a variety of hashtags for posts, photographs, and remarks because this is the finest platform to do so.
Wrapping Up
When you talk about Instagram or any other social media site, hashtags play a vital role in promoting the account and getting a wider audience. People not only use hashtags to reach more audiences but also to connect with the audience properly so they can get much interaction on the page or account. If you need more than specific keywords for your Instagram posts, you can take help from https://snoopreport.com/. If you are new to this, don't worry; slowly, you will learn how to plan a strategy and create engaging content.