Instagram has made it possible for people to share long videos on their Instagram live sessions, and if you follow that person, you can join the live video.
However, just like viewing someone's Instagram story, your ID will be visible, and someone can tell when you view their Instagram Live.
"Can I watch Instagram live anonymously?" may be the question you're having trouble answering. So, the answer is. Yes, you can watch Instagram live anonymously. Despite there is no method that is officially listed.
Can I Join an Instagram Live Without Someone Knowing?
There isn't an official way to watch someone's Instagram live videos without being seen. Once you participate in the live session, Instagram publicizes your information, allowing the host to see who watched the live video.
There are several workarounds for that, though. Just watch the live videos without giving away your identity or leaving any other traces.
Fortunately, this article equips you with various strategies to watch someone's Instagram live videos while remaining anonymous.
Different Ways of Watching Instagram Live Without Them Knowing
Everyone is trying to decipher how to covertly watch someone's Instagram live videos. If you don't want someone to know you watched their live videos, you might be stalking them. Whatever your motive, give one of the approaches below a shot.
Method #1: Change Your Instagram Identity
What will make someone aware that you watched one of their live streams is your Instagram name and username. They won't be able to tell that you are a viewer if you can update the information they already have on you.
Follow these steps:
Log in to your Instagram profile.
To view your profile, click the profile image at the bottom.
Select "Edit Profile" from the menu.
Change your username to something odd that doesn't reveal who you are.
After that, change your name to something strange.
After making all necessary changes, save them by clicking the tick icon at the top.
And that's it. Now that the live video has begun, you can wait to join. Since they won't recognize you, the intended recipient won't know that you are watching their video.
Method #2: Use a Fake/New Account.
You can make a new account to watch the live stream if changing your Instagram login information is something other than what you're keen on doing. This approach, however, is only practical if the intended recipient has a public account. If not, you must approach them and request to be their buddy before becoming one.
Make a new Instagram account if their account is open to the public. Use arbitrary information that won't allow anyone to identify you. When your Instagram account is set, look for the person you want to follow and follow them. Block the individual who is the target first.
Please wait until you notice that they have started the live video on your primary account. After that, change to your second fictitious account, unblock the user, and start watching the live video. Block the person once more and log out after the live video.
The benefit of this method is that it cannot reveal your identity, and you may continue to follow the same steps to watch someone's live streams without them being aware of it.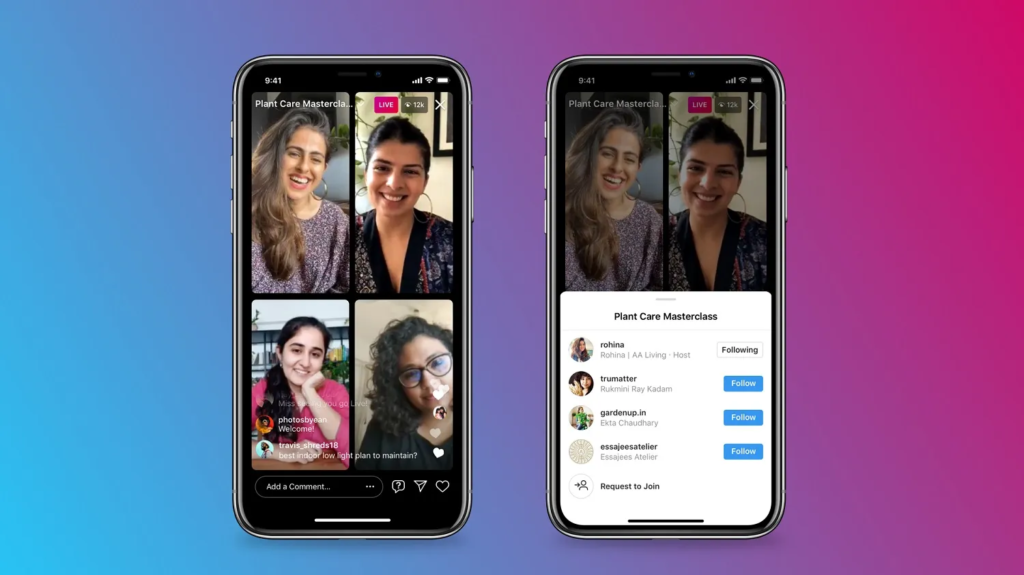 Method #3: Watch Their IGTV Video
The majority of creators upload their live videos to IGTV.
If your target individual does this, you must wait a short while before going to their IGTV area and watching the video.
They won't be able to determine that you saw their live video after they saved it because they can't tell who watched their IGTV video.
Method #4: Viewing Using Someone's Instagram Account
The strategy will work if you have a trustworthy friend or relative who doesn't mind you using their Instagram account to join live videos. Here, the trick is to use your friend's Instagram account to follow the desired individual.
When the person you want to join starts broadcasting live videos, you can join them once you follow them. Additionally, since you are using someone else's identity, they cannot determine who is watching their live videos.
In this manner, you can hide your identity while watching live Instagram videos.
Conclusion
Although there isn't an official way to watch Instagram Live anonymously, this post's strategies can assist you in achieving your objectives. Nobody watching a live event will ever know that you did so.
When watching someone's Instagram live streams, you can remain anonymous.
If you do, compare the four techniques described in this guide to discover which is more straightforward and effective. Additionally, each solution is simple to implement.