All of us are undeniably dependent on various social media platforms. Checking our phones, seeing how many likes we have on our posted content, what the new reels are or how many new followers we can gain are the first things we do right after waking up. And among all the social media platforms, Instagram has been revolutionary for all content creators.
It has offered them considerable exposure where they can put up their skills and talent and get value and appreciation for it. Among all the benefits for this platform's content creators, other praise-worthy factors exist. One of which is the highly appealing interface of the website and its application. There have been numerous new additions to the platform, which has made it look even more attractive. One such feature is the instruction of the Dark Mode on Instagram. And in the following discussion, we will discuss the dark mode feature of Instagram. So, let us begin the discussion without any further delay.
What is the dark mode on Instagram?
Let us begin with a quick briefing about what this feature is all about. The dark mode on Instagram is a feature that gives the app a darker shade and tone. The entire interface turns darker and has darker shades. It is soothing for the eyes and for people who prefer darker meter faces more than lighter ones with white hues; it is perfect for them.
Now, almost all devices have a dark mode, which is quite effective and beneficial for the eyesight of the users as well. Dark mode has become quite popular, and therefore, having dark mode on Instagram has facilitated the users' comfort.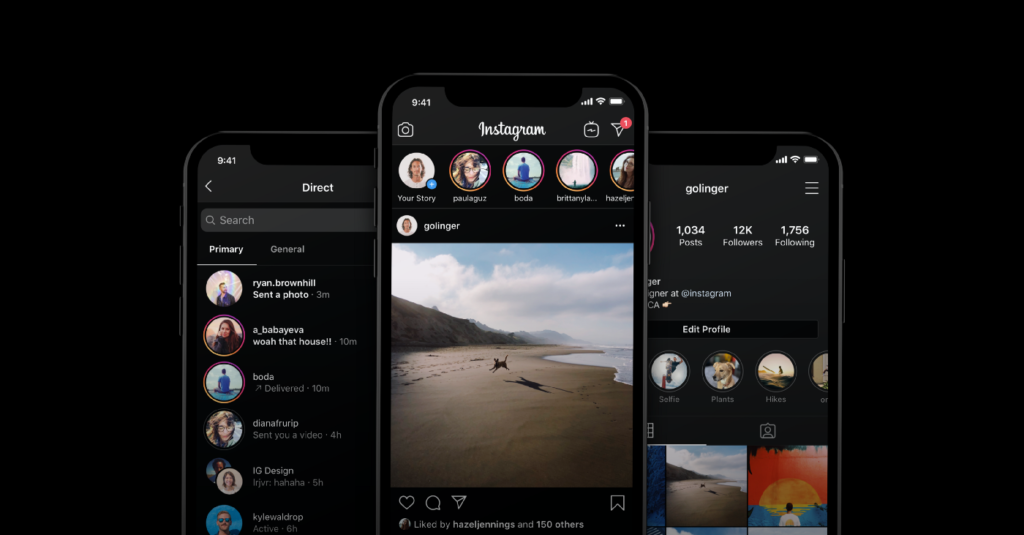 How to switch to dark mode on Instagram?
The steps are simple, and they are as follows.
Step 1: Tap on your profile on the app or the website.
Step 2: Select the three-line icon on the top right.
Step 3: Choose the option "Settings."
Step 4: Select "Theme"
Step 5: You will find three options- "Light," "Dark," and "Default."
Step 6: Choose the "Dark" option.
Final Words
Switching to dark mode on Instagram will help you have a unique and relieving experience on the app. So, follow the simple steps to switch to dark mode on Instagram and have the best surfing experience on this incredible social media platform.